The Art of Sailing
03/11/2021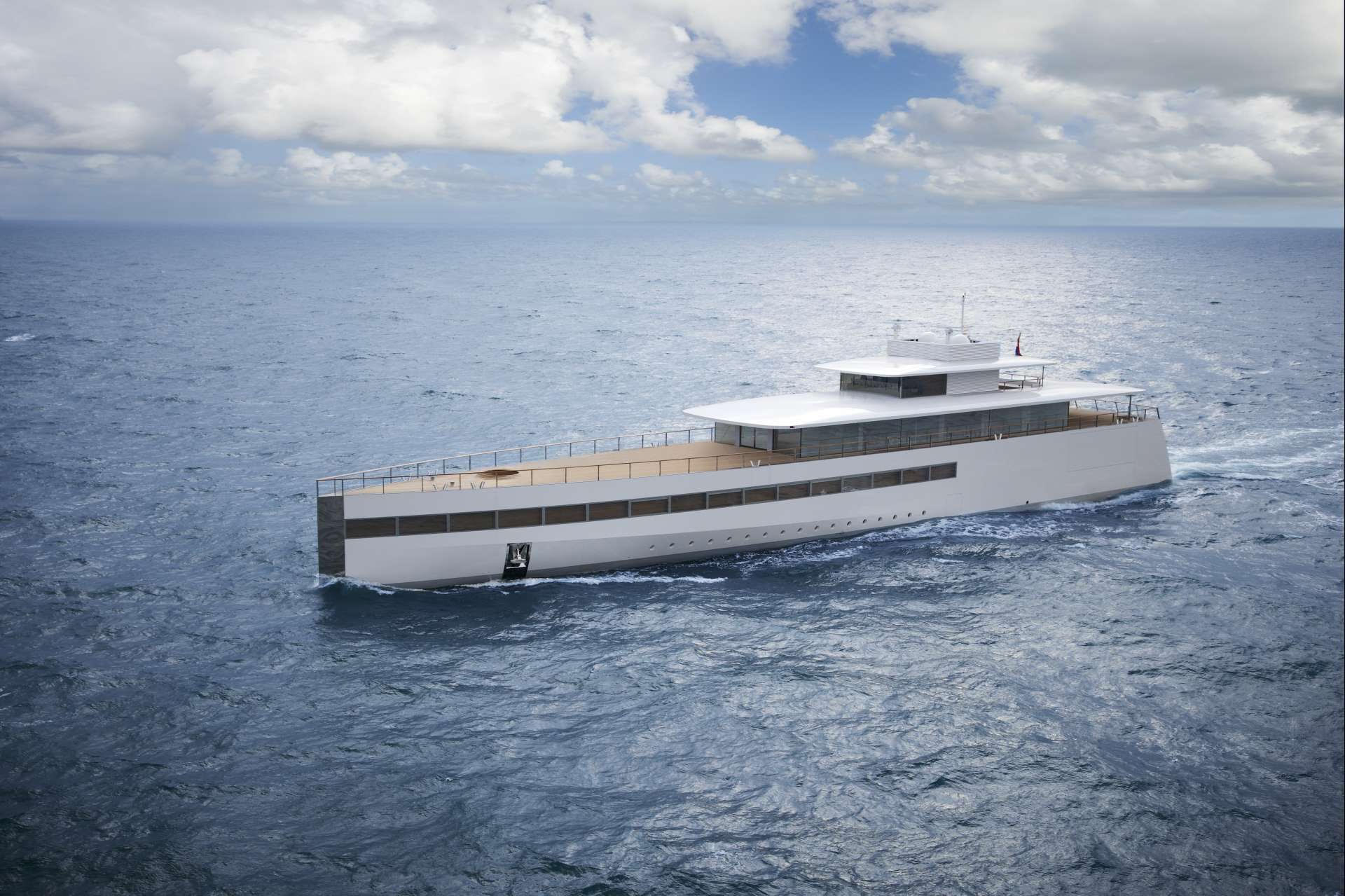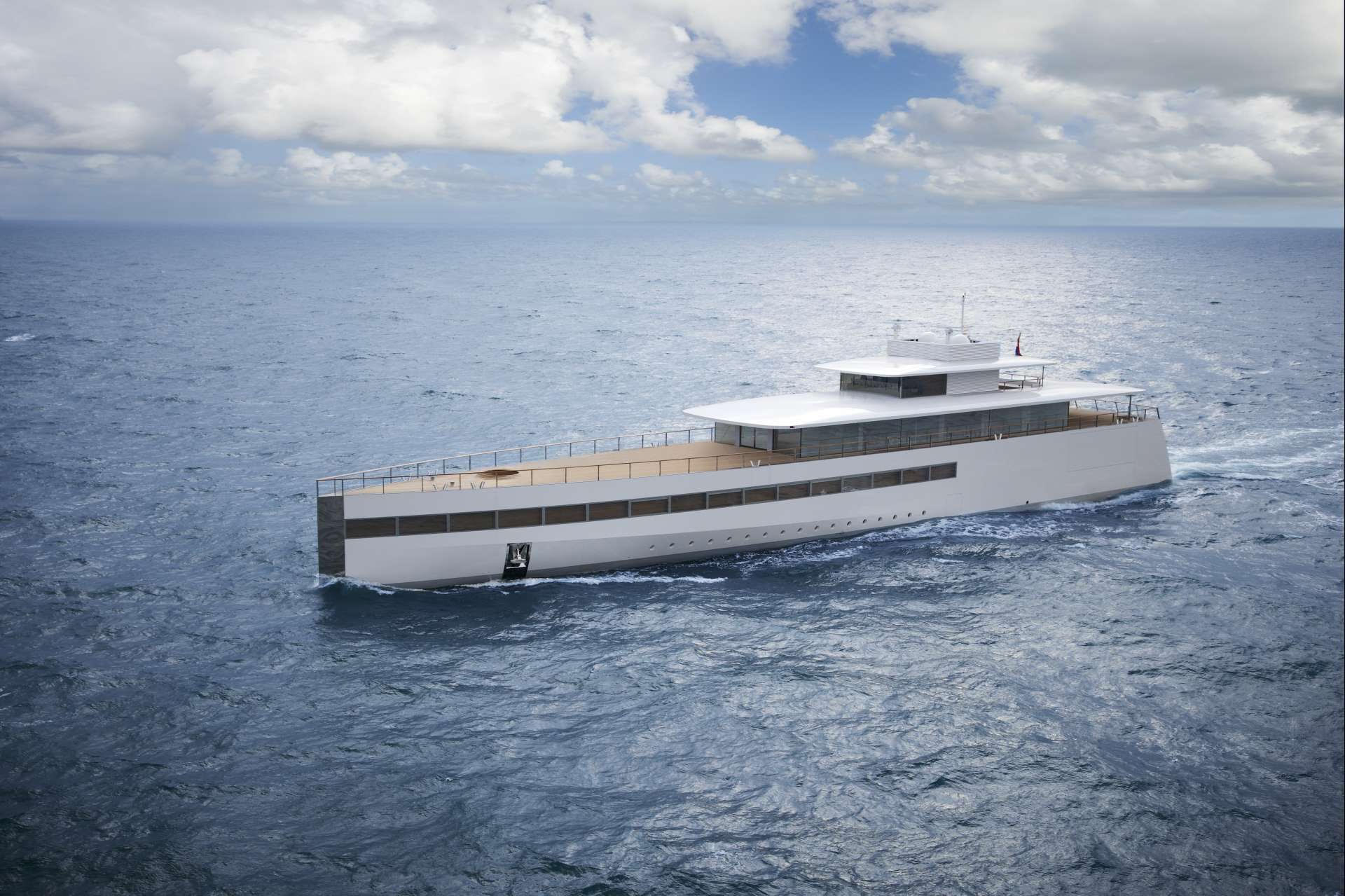 ©Feadship – Starck Network
When it comes to design collaborations between artists and superyacht designers, the world is your oyster. "A yacht is not made to be useful, it is the 'crystallisation' of a childhood dream", said creator Philippe Starck, whose iconic 78 metre sleek glass and aluminium superyacht Venus was commissioned by the late Apple founder Steve Jobs and built by Dutch yard Feadship. Interestingly, yachts and naval architecture have formed a large percentage of his design portfolio, although you may not have been aware.  
Staying afloat of the game, Starck has ideas of future sustainable yachts, electric and hydrogen boats, from 3 to 300 metres, as an intention to help save the sea. Which, one can already imagine, is going to look as good as it sounds. High end fashion brands and our favourite fast car designers have also added a touch of lux to the largest boats on the waves.
Style setters
Gucci's Aquariva made to order speedboat was a special 2011 collaboration with Riva and Officina Italiana Design, customised at the time by Creative Director Frida Giannini, in celebration of Gucci's 90th anniversary. Giannini added the Guccissima fabric for the seating and sun deck upholstery, and classic red and green Gucci colours are seen on the floating line and fibreglass hull, which look fab against the green crystal windshield. And, of course, all the bedrooms have white cotton Gucci sheets. Riva yachts have always been a symbol of style and synonymous with 1950's Italian glamour. Their signature use of mahogany can be seen in the cockpit, walking decks and awning cover hatch, and a range of Riva by Gucci accessories, completed the story.
From Gucci to Chihuly
Inspired by the sea is Seattle based glass sculptor Dale Chihuly, renowned for his larger than life sculptures and installations that have appeared all over the world in international art galleries, gardens and museums, and a few, select yachts. His stunning Sea Spray Chandelier for the 77 metre superyacht GO is a striking, intricate one-off unique work of art, formed of almost 500 individual hand blown glass 'icicles'. Lit by natural light, from all angles, an awesome array of shapes and hues are harmoniously reflected and further enhanced by the installation of numerous mirrors alongside it, allowing the sculpture to be enjoyed from different angles. Glamorous, striking and 50 shades of glistening sea spray sparkle with your morning cappuccino. Amazing.
Porsche
Now, if Porsche and superyacht are in the same sentence, you know it's going to be good. Luxury being their middle name, Studio F.A. Porsche released a smooth sailing 135 foot superstructure Royal Falcon One in 2019. Specifically designed for low fuel consumption, and developed by Singapore based Royal Falcon Fleet, it was built by Sweden's Kockums shipyard and took a long 10 years to complete. Its futuristic looking design is hailed by the listing agent Hugo Van Schaik as "a spaceship on the water." Accommodating 10 guests over five rooms, it has lots of luxury amenities.
Bentley
Are we all sitting comfortably? Bentley Home have teamed up with Club House Italia, the artisan furniture designer, mixing sports car elegance and the expertise of Italian manufacturing. The Brampton sofa, Buxton kitchen console, chairs and night tables, are made of marble, plush woods with metallic lines, and rich brown leather with the discreet Bentley logo. Their designs can be found in Dynamiq's new 41 metre metallic gold GTT 135 Stefania superyacht, which is fresh on the water, only just released a few weeks ago, from their shipyard in Massa, Tuscany, after 24 months of engineering. Dutch designed and Made in Italy, it is yours for 16.5 million euros, with a 2022 delivery date.
Dynamiq is a Monaco based company founded in 2014 by experienced yacht broker and designer Sergei Dobroserdov. The first company in the superyacht industry to introduce an online configurator, they allow the yacht to be customised down to the last detail. Dobroserdov works with the best designers in the world for each component of the boat. The aluminium hulls are designed by Dutch naval architects Van Oossanen, it boasts German designed navigation systems, award winning audio equipment by British brand Bowers & Wilkins, and Italian craftsmanship. With a total of 14 nationalities, it makes quite the design dream team. Among its features, a shallow draft of 1.8 metres for cruising the remote cays and shoal waters in the Bahamas, and the addition of a real fireplace in the main salon, adding a cosy touch for those cooler nights.
Stars shining bright above you
A mystical jewel of the sea is French fashion designer Thierry Mugler's Gentry Eagle (GE112) for Weyves Couture, which in 2010 was the fastest yacht in the world. There's something magical about Monsieur Mugler's haute-boat and the use of deep blue, echoes the sleek futuristic design of his star shaped Angel perfume bottle, in my opinion. He also designed the Mugler Spire Boat, the result being epic, other worldly, and an ergonomic, aerodynamic dream.
Jeff Koons
Is it a bird, is it a plane? Or, is it a boldly designed mega boat by American artist Jeff Koons. Inspired by British naval dazzle camouflage from WWI and commissioned by Greek billionaire and art collector Dakis Joannou, this floating work of art titled Guilty, is a Tate Modern on the waves. With the word 'feelings' in neon lights on the wall above the bed, by British artist and Turner prize winner Martin Creed, and a master bedroom boasting 180 degree views, it was designed in collaboration with Ivana Porfiri, who worked on both the interior and exterior. The overall look is white with Italian Radical design hanging on the walls, and a multicoloured staircase. Boats offer a great opportunity for freedom of expression for artists. The rules are there are no rules.
Docked in Athens, you might have noticed it, all 115 feet of yellow, pink and blue geometric design, it's like a giant Pop art kaleidoscope. Blink and you won't miss it. British artist Sir Peter Blake embellished a boat in a similar fashion, titled 'Everybody Razzle Dazzle', in celebration of the role that Liverpool boats played in the First World War, for the Liverpool Biennial's 14-18 WW1 Centenary Art Commissions.
O, also of interest
One of the most luxurious superyachts to date, acquired in 1954 by Aristotle Onassis, is 100 metre Christina O, available for private hire. Ranked 56 in the Top 100 Largest Yachts in the World, it is the "epitome of elegance and luxury", says Superyachts.com. Also the location of choice for Monaco's Prince Rainier and Grace Kelly's wedding reception.
Underwater art in the Lérins Islands
In February 2021, Cannes town hall inaugurated the first French underwater ecomuseum and art installation by artist Jason deCaires Taylor. Six mask like sculptures have been submerged on the outskirts of Sainte-Marguerite Island and are accessible to divers, at a distance of 84 -132m from the shore and at a depth of 3 to 5 metres. It's safe to dive as boats and anchors are off limits to enter the area. Carved in neutral pH cement, over time flora and fauna are attracted the textured surfaces of the sculptures, obscuring them with their growth, providing homes and spaces for marine life, allowing the ecosystem to flourish. Seagrass plants, referred to as the 'lungs of the ocean', generate large amounts of oxygen, and have formed a structured alliance with his other statue installations.
DeCaires Taylor founded the world's first underwater sculpture park in Grenada in 2006 and is recognised as one of the top 25 Wonders of the World by National Geographic.
His first Mediterranean project, the Lérins Island masks are split and have two sides, being a metaphor for the ocean. "From land, we see the surface, calm and serene, or powerful and majestic. However below the surface is a fragile, finely-balanced ecosystem, one which has been continuously degraded and polluted over the years by human activity. Generally, my aim is to change our relationship, how we see the sea," says deCaires Taylor. The side that faces the shore is "powerful and majestic", the other side showing "fragility and decay". The idea of sculpting masks is an interesting one, and site specific, linking to the Cannes film festival's craft of acting, and The Man with the Iron Mask, the story of the island. Also, how we 'look' at the sea. He says "It's almost like a mask, where we don't really know what's underneath. I wanted to show that underneath this mask is actually a very beautiful and fragile space."
From the functional to the fabulous, there is an art to sailing and sailing has always been a showcase for art. From Emperor Caligula's legendary ships to latter day sailing vessels, big yachts are an affordable luxury, if you can afford them, and playful pastime for their affluent owners. It's an exclusive club with exclusive members who hold exclusive parties for exclusive friends. Seeking the thrill of the ocean is a commonality they all share. As for artists and the sea, creativity knows no bounds.