Seoul, South Korea, where Art and Technology Collide
06/19/2020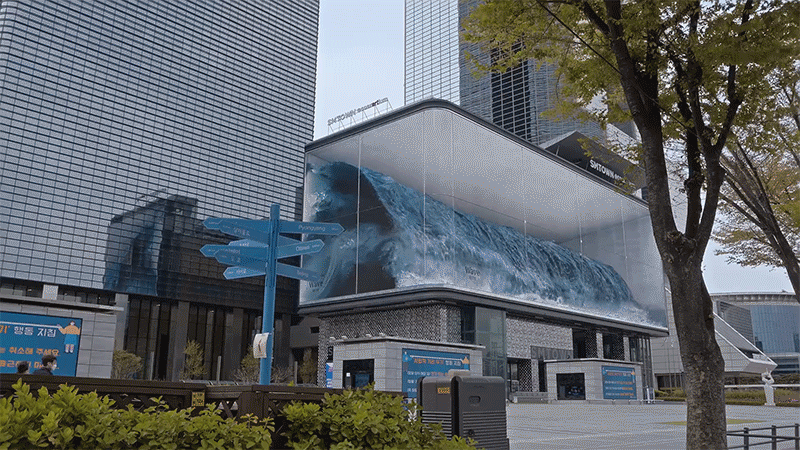 An advertising agency in South Korea has found a new way to attract the attention of potential customers.
Referring to themselves as an "arttech factory", D'strict began in the year 2000 as a web design company. Since then, they have branched out to Creative Content Planning, Advertising, Video Creation,  3D and 4D video and software development.
A giant wave is the latest installation on the LED facade of South Korea's largest digital billboard, the SMTown Coex Artium. South Korea's version of Times Square, the advert is located in Seoul's K-Pop Square, in the Gangnam District. The calming waves are featured on a screen (developed by Samsung) that measures 80×20 meters. It covers an area of 1,620m² and is comprised of 31,000 video panels in 8K resolution.
The crashing wave effect is in an anamorphic illusion that makes the two-dimensional wraparound display appear like a 3D tank. Normally, however, there is a huge setback in that it only looks cool from one angle. D'strict utilised the 31,000 modules and, as CEO Sean Lee explained, "the most challenging point of the Wave was to find a way to create the surface that corresponds to the ceiling. After designing the surface of the ceiling with different variations, we had a lot of time for field tests on the actual LED screen and got the best 3D stereoscopic view from multiple angles. What you now see is the final result of the hard work we did."
The wave simulation shows up one minute every hour and literally stops the traffic.
Agencies usually make money through advertising. However, since most people dislike advertising, lately it has become fashionable to sponsor an art installation. In this way, companies deliver a more subtle message, and artistic content raises real-estate value.
The content is leased for a limited time in a limited space, and the library of subjects being developed will allow the reusable content to be displayed at a lower cost. This Innovative content, available for outdoor as well as indoor media, can be adapted instantly to any size.
Along with this innovative content comes the development of new business models for this type of media. Couple this technology with the new 5G and fibre networks, and what can you create in the field of entertainment, education and next-generation advertising? How can you place more value in your airport, shopping mall, entertainment/sports complex? How can you 'wow' potential investors utilising this technology?
Other designs by D'strict include the Nexen UniverCity project, the interactive visual experience at Cafe.Bot and the 3D bit of "digi-tainment" in the form of the Lotte World Magic Circle.
Many sources were used for the compilation of this article. Among those are, https://www.boredpanda.com/seoul-korea-led-screen-display-building/