Future Monaco
01/23/2021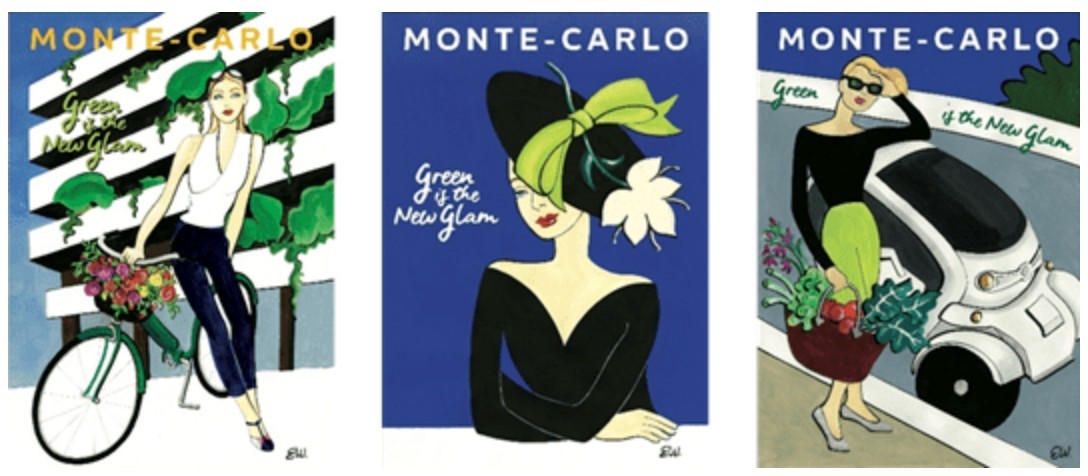 When you think of Monaco, admittedly fast cars come to mind, but bicycle paths, insect hotels, lush gardens and sustainability are the hashtag of its latest initiative. At the fifth anniversary of the Paris Climate Agreement, H.S.H. Prince Albert II announced that Monaco would increase its greenhouse gas reduction target by 55% as part of an ongoing goal to go green. A fifteen acre eco-district is also set to be completed by 2025, one step forward for his aim of being carbon neutral by 2050.
Eco district Mareterra, also referred to as Portier Cove, is going to form part of the traditional Quartier of Monte Carlo in the Principality of Monaco, and be the eleventh modern administrative Monégasque Ward. Residences and unique buildings rising in scale from the east to the west will offer a striking architectural landscape and addition to the Principality's existing coastline, stretching from the Grimaldi Forum to the Formula One tunnel.
A series of sustainable floating seaside residences designed by renowned Italian architect Renzo Piano is one of the special highlights we can look forward to, foundations of which have already been laid.
Let there be light!
Renzo needs little introduction. Often referred to as the 'Architect of Light' for his uplifting, luminous structures, there's something special about his architecture, you simply can't imagine the structure not having been there in the first place. His Shard skyscraper in London is a great example of that. It's imposing but doesn't overtake, as only great architecture should. It simply improves and accentuates a space.
An advocate of sustainability, his design for the Shard included 90% recycled materials and emissions were cut in half by using 740 square metres of solar panels. And similar rules apply for Le Renzo.
Le Renzo
The 'Le Renzo' residences are inspired by the form of a fragmented vessel, and its nautical surroundings, playing with light and air. Solar cells on the roof and special lighting solutions omit the necessity for shutters, allowing the glass facade to shine in all its glory, with uninterrupted floor to ceiling sea views. The residences will rise above a small port, Port d'Animation, to allow open space at ground level, leaving room for a retail plaza, ideal for local residents to relax in.
"When you grow up by the sea, it becomes an essential part of who you are." Renzo Piano
The existing stretch of land was, somewhat surprisingly, last updated in the 1950s, so an upgrade was calling. The entire project unifies the area at seafront level, from the Larvotto and Promenade Princess Grace Avenue, forming one large public space of 15.000m², 10.000m² of restaurants, cafés and shops, along with a covered pergola area and beautiful pine trees for shade.
Le Renzo is the hub and star of the show, and Renzo Piano Building Workshop Director Joost Moolhuijzen is working with Valode and Pistre Architects and landscape architect Michel Desvigne on the larger overall development. A series of select firms have been appointed to improve the landscape and surroundings and a limited amount of one-off, uniquely designed houses are going to add architectural glamour to the areas renowned history of inherent elegance. Generous footprints and layouts shall subtilely nestle into the landscape, and roof gardens will allow for a seamless flow of discreet structures in the hills.
All residences will focus on the indoors/outdoors and being 'at one with nature'. In addition, administrative buildings, museums and a theatre, will offer entertainment and attract people all year round.
The teams have been hard at work applying for certification labels, including the Breeam certification.
Sustainability
Let's have a look at the sustainable facts and figures:
There will be a focus on saving the local ecosystem using biodiversity shelters, eg bird nests and insect hotels.
Measures are in place to save 510m² of Posidonia Oceanica, a protected species of sea grass, and to tame Caulerpa, an invasive species of algae.
Artificial reefs to favour colonisation and attract wildlife of the new coastal addition. 1,100 Trees planted
4,500m2 of solar panels
Smart lighting based on astronomical clock and presence sensors.
Geothermal heating on sea water, huge heat pumps take the calories of sea water to generate both heat (in winter) and cold (in summer).
600m3 Pond for rainwater storage. 600m of cycle paths.
80% of heating and cooling covered by renewable energy. Smartgrid technologies
Smart lighting (based on astronomical clock and presence sensors) Smart electricity and water metres with consumption display.
Irrigation sprinkler system based on humidity and rainfall
Around 200 charging systems for electric vehicles on the project (including 20% of the public car park).
Electric shuttles between Larvotto beach and Mareterra.
'Green is the new Glam'
All the good green friendly incentives are applied to hotels too. In 2018, measures were made to ensure Monaco's tourism industry is eco friendly. The Monaco Government Tourist Office released a new 'Visit Monaco' logo for their Monaco Tourist and Convention Authority along with the 'Green is the new Glam' campaign, which will be used in all international tourism markets and promotional material.
A total of 17 bike stations, a solar powered bus boat and a dozen hybrid buses are available, together with two Tesla-compatible charging stations. As many as 386,000 trips are made daily within the 2.02 km-square principality.
As well as being a founding member of the Wellness Tourism Association, the Monaco Tourist and Convention Authority runs the 'Smart+' initiative, whereby the government gifts hoteliers a smart box allowing them to monitor their electricity consumption along with an action plan to help make energy savings.
The Monte-Carlo Bay Hotel & Resort adapted over 800 light fittings allowing it to save one month's worth of electricity per year, earning a Green Globe certification. The Novotel Monte Carlo has buzzing beehives on its roof and The Hotel Metropole Monte Carlo financed the reforestation of a nearby hill after it suffered serious forest fires, and began the 'my very own tree' program, whereby hotel guests may donate to help plant new trees in the area.
Also involved, the Fairmount Hotel has an entire central heating and air conditioning system powered by four underground heat pumps, a renewable energy source which draws heat from the seawater surrounding the hotel.
One of the Principality's most visited tourist attractions is an oasis in the form of the Exotic Garden, originally created by Prince Albert I, which doubles as a botanical centre and specialist tree nursery.
"Monaco is undoubtedly one of the world's most iconic destinations, and we look forward to introducing visitors to a side of our principality they may not have known about before; the destination of choice for the indulgent traveller conscious of leaving a positive impact behind when they leave." said a Visit Monaco spokeswoman.
It's great that Monaco strives to improve the area's natural abundance, aesthetically and environmentally. The houses and installations of the future eco-district can be seen as stylish sustainable heirs to the lavish modernist residences of the 19th and early 20th centuries.
Responsible architecture for a sustainable future is a great investment opportunity and Mareterra is no doubt one of many future eco-districts we will be seeing more of going forward. It's fair to say that Monaco is ahead of the race. Watch this space!